Bringing home your new little bundle of joy is fun and exciting! But it can also be a bit stressful and scary.
Combat some of that stress with a nursery that you love as much as she does. You can easily find some great ideas for her room that allow you to decorate her nursery or bedroom before she even arrives.
Whether you have your heart set on a pink room or aren't quite sure yet what you want, check out these eight beautiful design ideas for a girl's room.
#1: Shabby Chic Done Right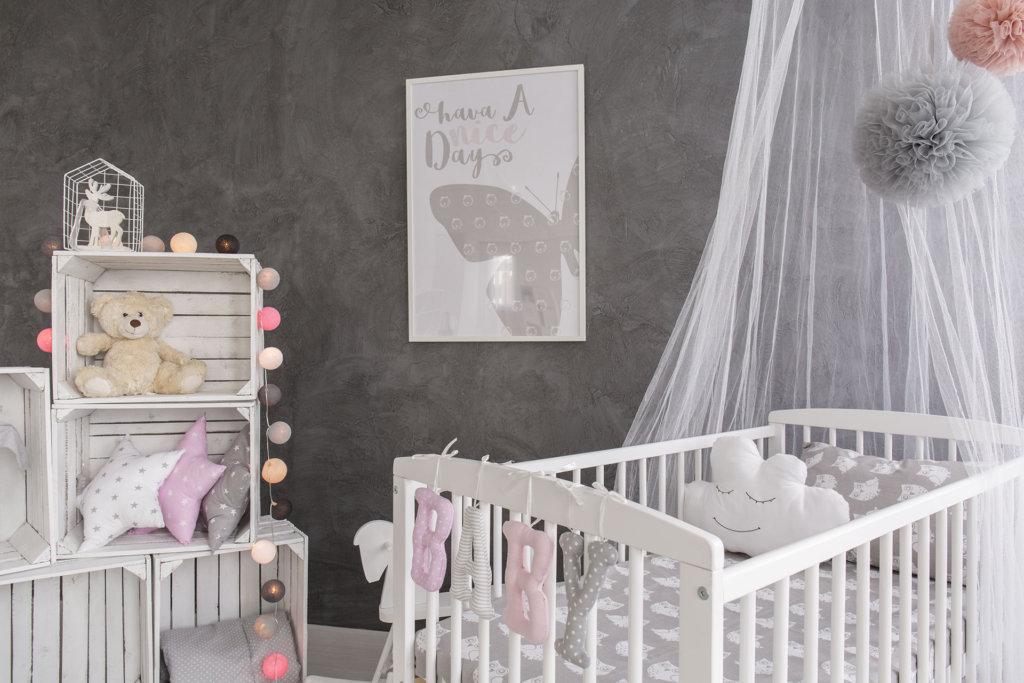 When done right, the shabby chic design can look both amazing and beautiful, which is why you might love this design. It focuses primarily on the color white, and you can use the classic wood crates to store everything from extra clothes and diapers to her favorite toys.
To keep the white from looking too blinding, you'll find accents of pink here and there, including in the decorations hanging on the walls and some of the toys that double as decorative items.
The cloud patterned sheets with the matching pillow add a few fun touches to the room and use the color gray to add a little more color to her room. You can adjust the design based on what you want to use too.
#2: Outdoor Fun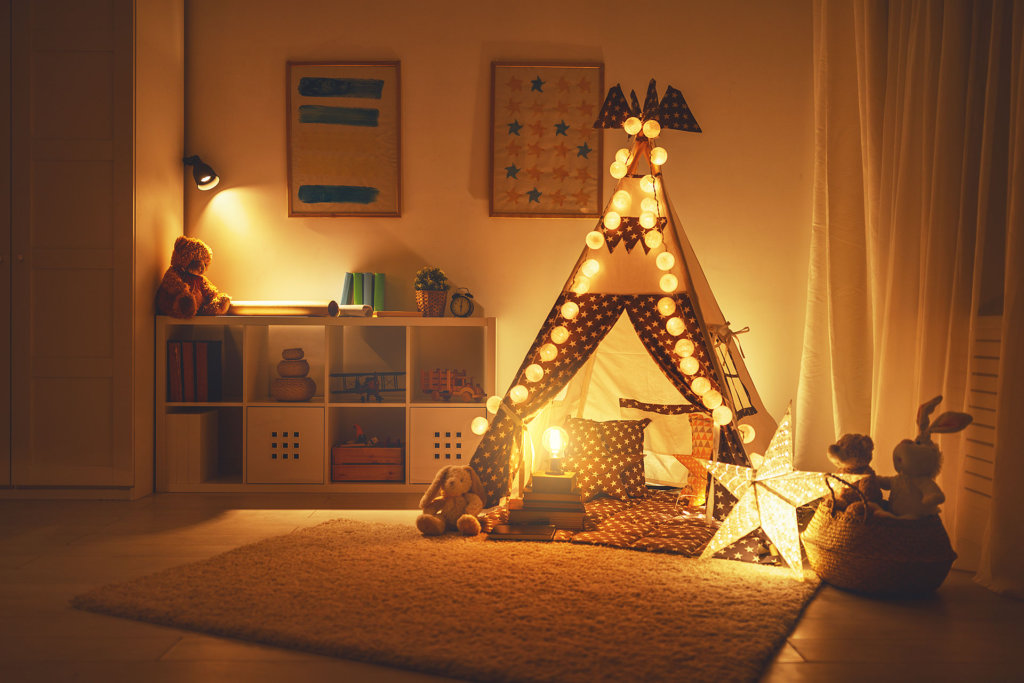 Who says that you can't have as much fun sitting inside as you do in the great outdoors? This fun design works when your little girl is a baby, and when she gets a little older. The main focus is on a tent or teepee that she can use as a bed later or as a playroom when her friends come over.
For babies, you might use that tent on top of a crib to give her some privacy and block out the light, which can help her sleep better and easier. A few fun touches that can make the room pop include nature prints that you hang on the walls as well as stuffed animals. Don't forget the bamboo and natural wood furniture either.
#3: Your Golden Princess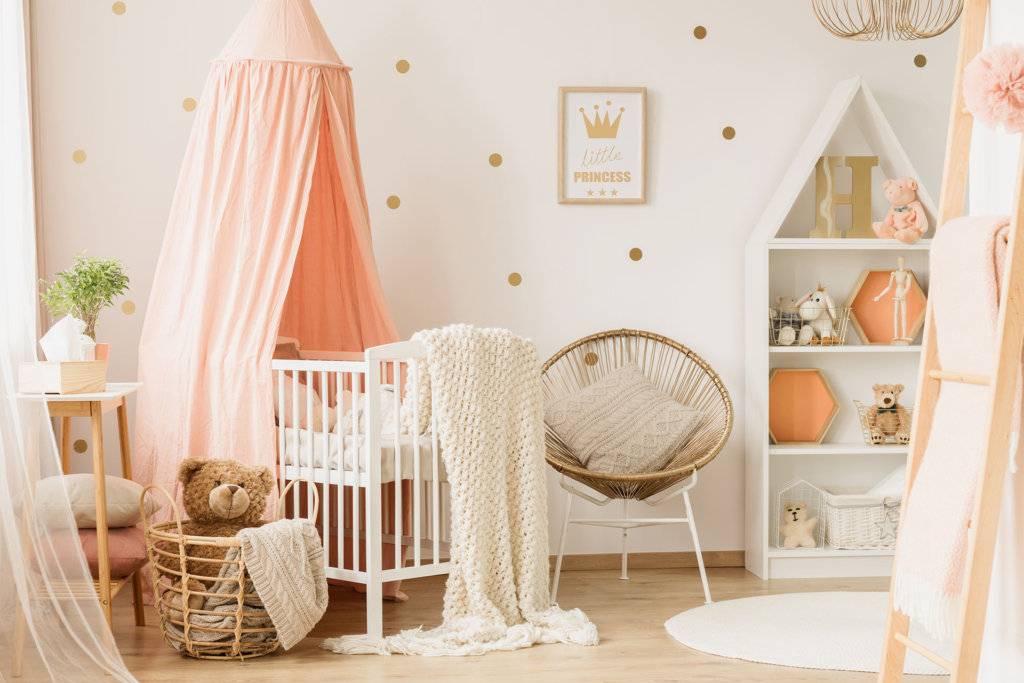 Treat your new baby girl like the princess she is with this design idea that incorporates both the color gold and princess decorations. Though some think that gold is too bold for a baby's room, it can warm up a space and make the room feel more welcoming. You don't need to focus too much on gold, though, as it can also work with other shades such as pink and lilac.
Rose gold offers a twist on traditional gold that can make her feel like she's royalty. A few gold accents such as boxes on the shelves and lighting fixtures can make the pink decorations that you choose pop and make the nursery look like a pro designed it.
#4: Pastel Pink and Gray are Wholesome

Pastel pink is a hot nursery trend, but you can keep her bedroom from looking like all the others with the addition of some gray.
Gray is a great option because it is darker than pink and can hide more stains, including those caused by a baby accident. Painting one or more of the walls gray and choosing a similar color for the floor gives you a good place to start.
You'll also want to add some gray furniture to the room. This can be the chair that you use to the rock her to sleep or the crib where you lay her down. Pink accents such as bedding and pillows or wall hangings add a feminine touch to the room.
#5: Rustic Boho Chic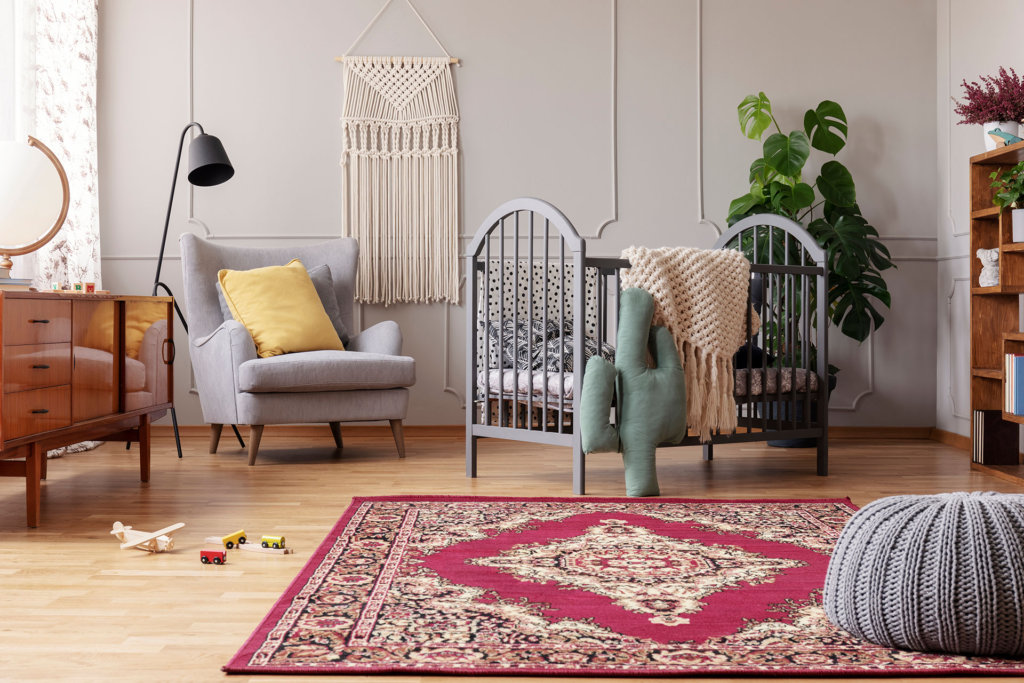 You don't need to spend a ton of money on decorations for your new baby's nursery. Rock the rustic and boho-chic look for a fraction of what you would otherwise spend. This design idea incorporates both pieces you own those you buy as well as older and newer items.
Adding a rustic rug in the center of the room brings in all the bright colors that you want. It can also protect the floor from damage. Mid-century modern furniture works well in this type of nursery and grows with your child to look great in a toddler's or teenager's room. If you choose a few bolder colors for the linens and rug, you might go with neutral colors for the furniture.
#6: Stun With White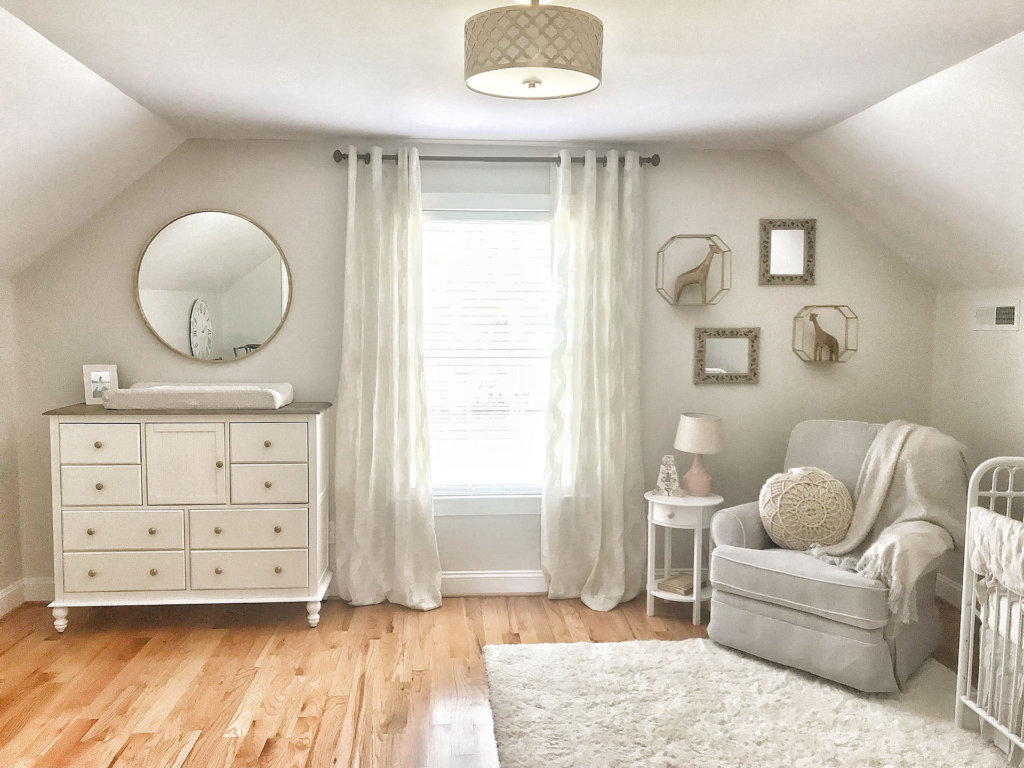 Creating a stunning look in a baby girl's nursery is as easy as basing your design around the color white. This also works well in rental homes when you can't paint the walls or change the floors. A white crib combined with a matching dresser and changing table will give the room a classic and traditional look.
You can add a few accents of gray to warm up the room, including the chair where you sit and talk with your baby and a warm rug. Other colors can accent the white and keep it from looking too cold or sterile, such as pink and gray. You may want to add a few wall decorations in shades of gold or bronze for a classy feel too.
#7: Nursery Zoo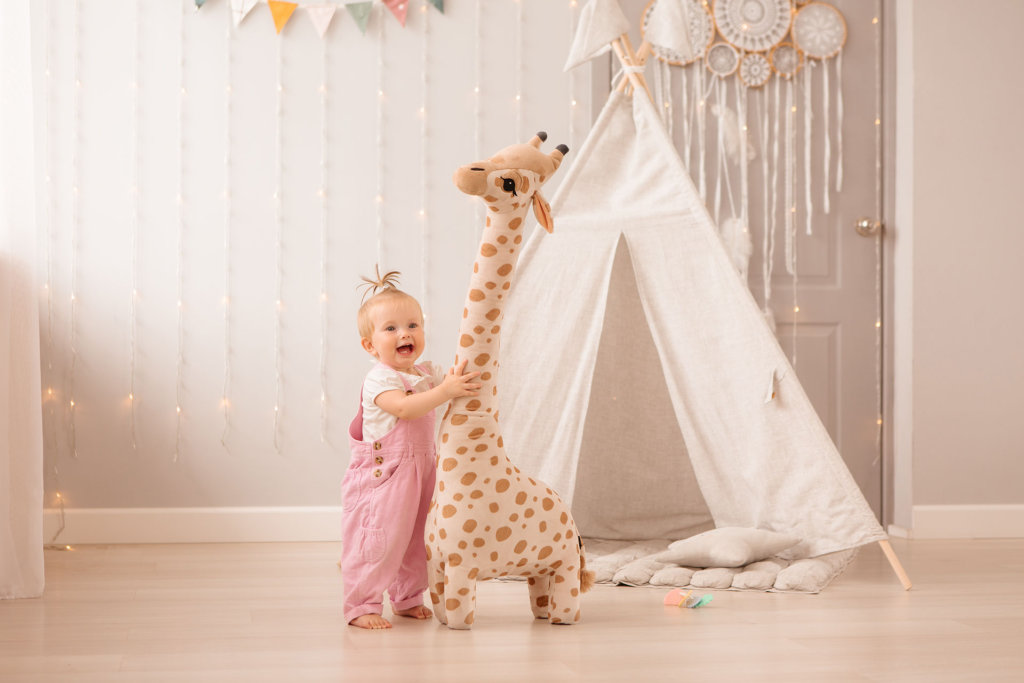 Foster a love for animals from a young age with a nursery built around a zoo theme. Though kids can go online to learn about animals, they'll pick some of their favorites when they're still babies. This idea relies heavily on stuffed animals that she can cuddle with when napping or playing on the floor.
You might go with a large stuffed animal such as a zebra or lion that serves as the room's focal point. She'll love showing off that toy to her friends later. Animal print bedding is a great addition to the room that works with the theme. You can also bring in nature prints or a matching rug as well as a tent that she might love later as much as she loves her bed.
#8: Go Neutral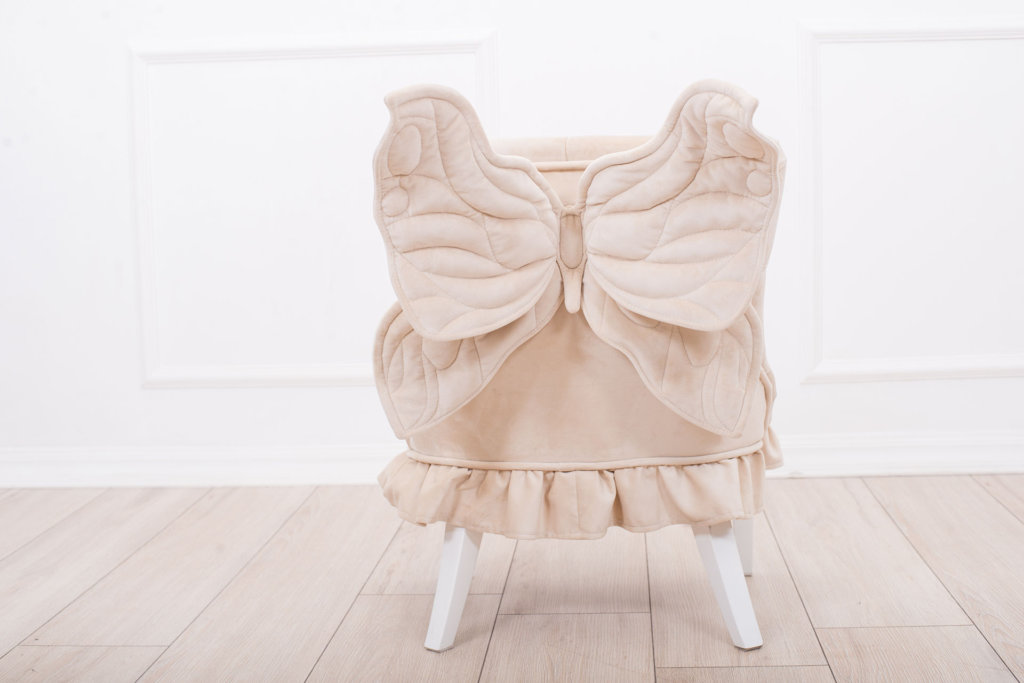 Neutral colors are great for parents planning for the future. Not only will those colors work as your daughter ages, but you can use the same colors in a nursery for any future children that you have. Though some think that neutral colors are bland or boring, they serve as a great backdrop for the rest of the room.
Keep the furniture neutral, including the crib and dressing table. This allows you to bring in bright accents in other parts of the room, such as the bed linens and an area rug that you can swap out as your taste changes. You'll also find neutral designs that incorporate textured fabrics and surfaces that are anything but bland for your new nursery.