Purple has long been known as the color of royalty. Throughout history, kings and queens have worn clothing dyed in rich shades of purple. The dye was so expensive that common people were excluded from buying purple clothing.
These days, you don't have to have a title to decorate your home with this majestic color.
Whether you prefer the soft subtlety of lilac or the brightness of saturated indigo, there's a shade of purple for you. Keep in mind when decorating with purple, it's important to recognize which shades and tones of purple are right for your room.
Color Theory: What Goes Well With Purple?
In color theory, warm colors are considered stimulating and evoke feelings of coziness and energy. In contrast, cool colors bring about feelings of serenity and calm. Purple is a cool color, making it ideal for bedrooms, bathrooms, and any place you want to create a relaxing atmosphere.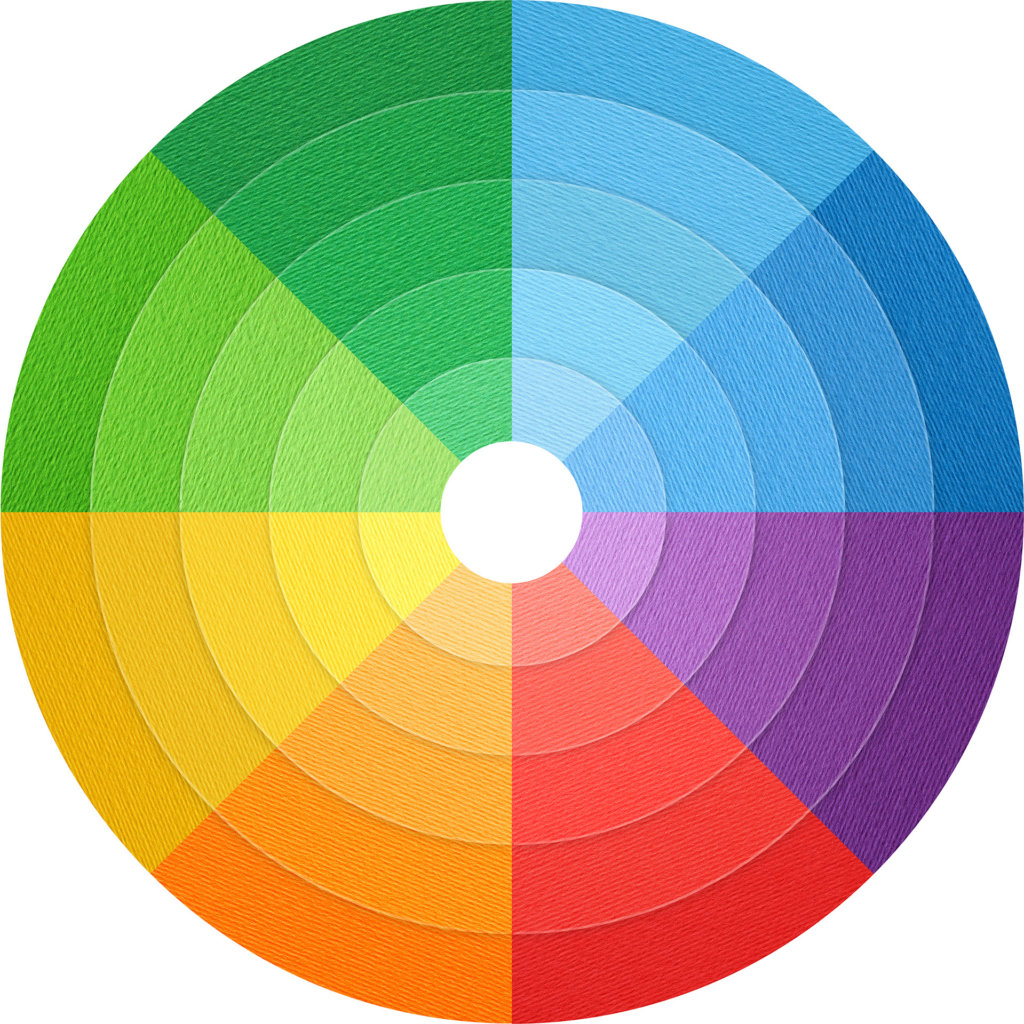 A color wheel helps you see the relationships between the different colors. On a color wheel, the color purple is analogous to varying hues of blue and red. When decorating with purple, add these colors to your room to help add depth.
Colors that are opposite purple, such as shades of yellow and green, are complementary colors. Together, these color combinations provide high contrast and high impact in a room. To better understand how to decorate with purple, use the color wheel to help select the best color scheme and guide you in creating a visually appealing room.
Here are 8 of our favorite purple color schemes to give you some inspiration.
#1: A Modern Approach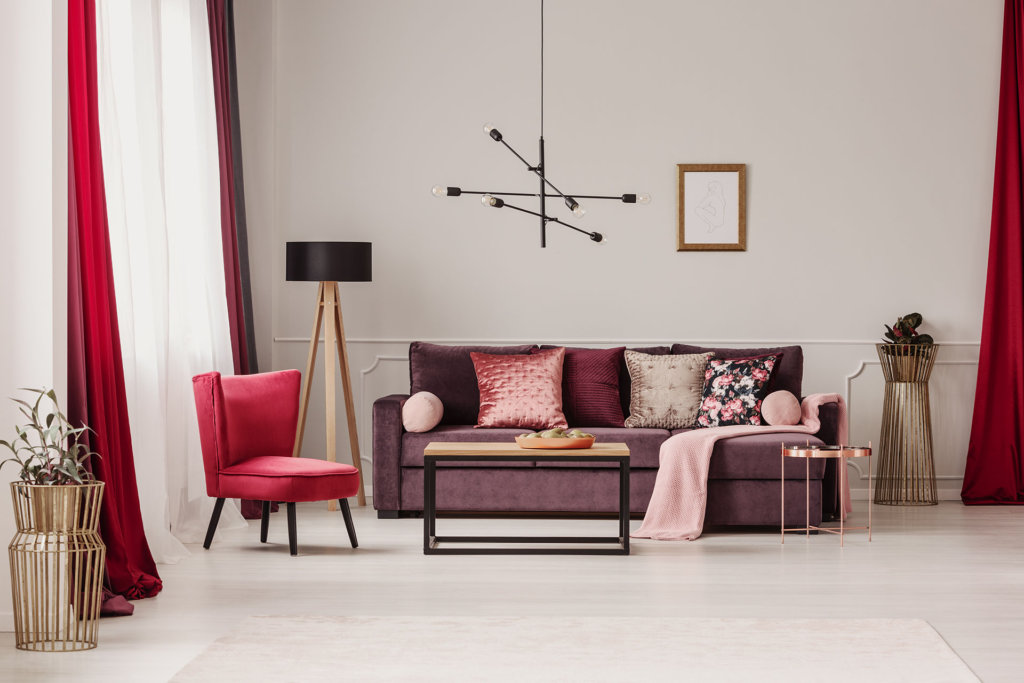 When you decorate with colors that are next to each other on the color wheel, it always feels fresh and modern. This dark rich red chair and these flowing window treatments, along with the deep purple mauve-colored sofa in this living room, make it feel sophisticated. The light pink accessories in different textures, tones, and patterns stay true to the warm color scheme.
Accenting the room with modern sculptural pieces such as these plant holders and light fixtures finishes the look. Even though this room may look expensive, you can achieve the look with a mixture of high and low-end pieces.
#2: Unexpected Neutral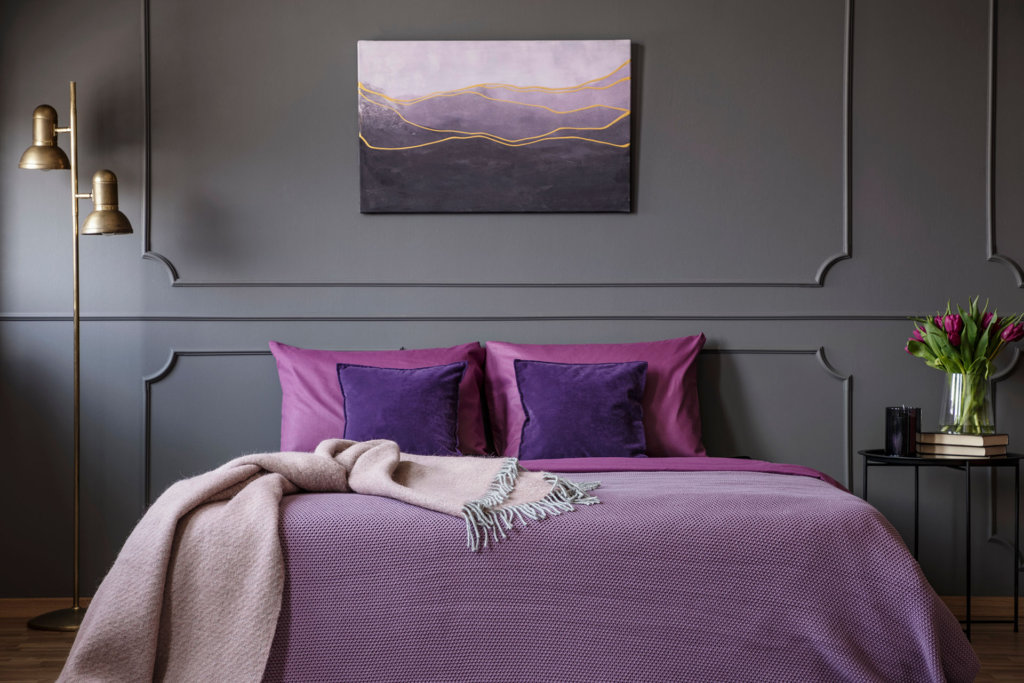 When you think of neutral colors for your wall, you probably think of variations of tans, beiges, or whites. Because gray is neither warm nor cool, it is the perfect neutral color to pair with just about anything.
Here it is the backdrop for a variety of purple hues. Tones of berry, mauve, pink, and violet are boldly displayed in the linens and bed covers. Some of these tones are mimicked in the artwork above the bed. Together, the gray and purple make the room feel warm and cozy. The brass of the bedside lamp and in the painting serves well as an accent color.
#3: French Flair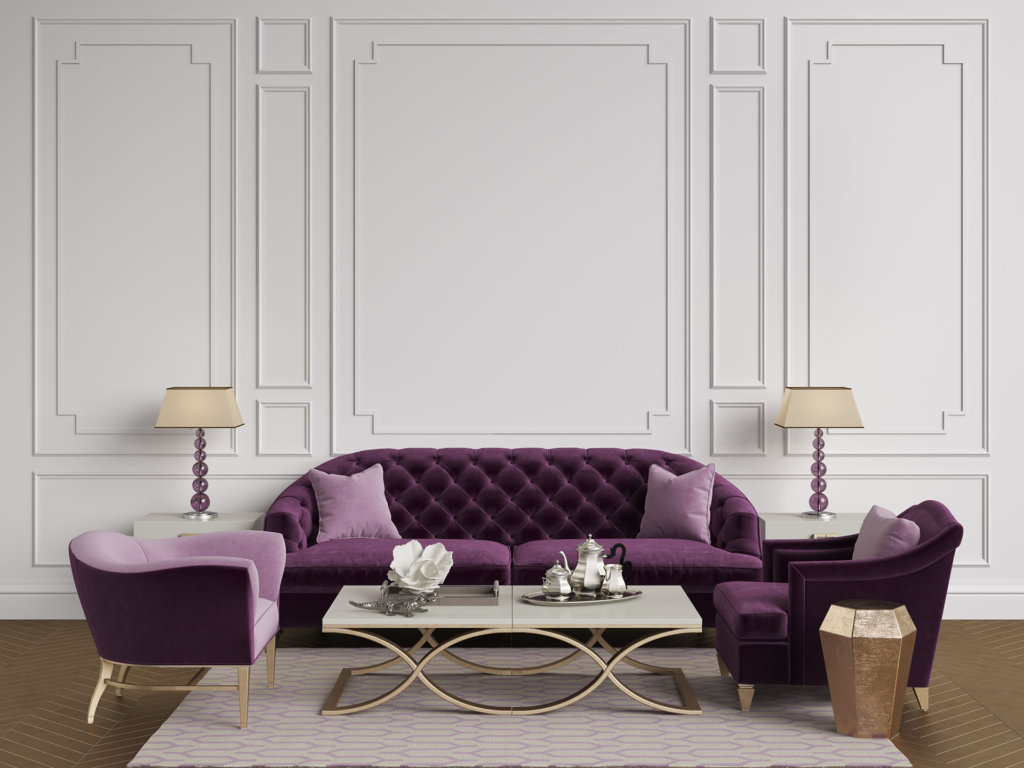 The key to decorating in the French style is to keep it simple. This sofa, the two armchairs, and tables are all that is needed in this room. The rich eggplant color stands out against the starkness of the white walls. It provides a bold modern feel to this otherwise traditional-looking room. The pink accent color found in the pillows and one of the chairs also modernizes the space.
Because the two colors are closely related, the purple and pink complement each other well. To get this effortless look, make sure your furnishings are sleek and simple, and the rest of your room is sparse and uncluttered.
#4: Create A Palette With Lilac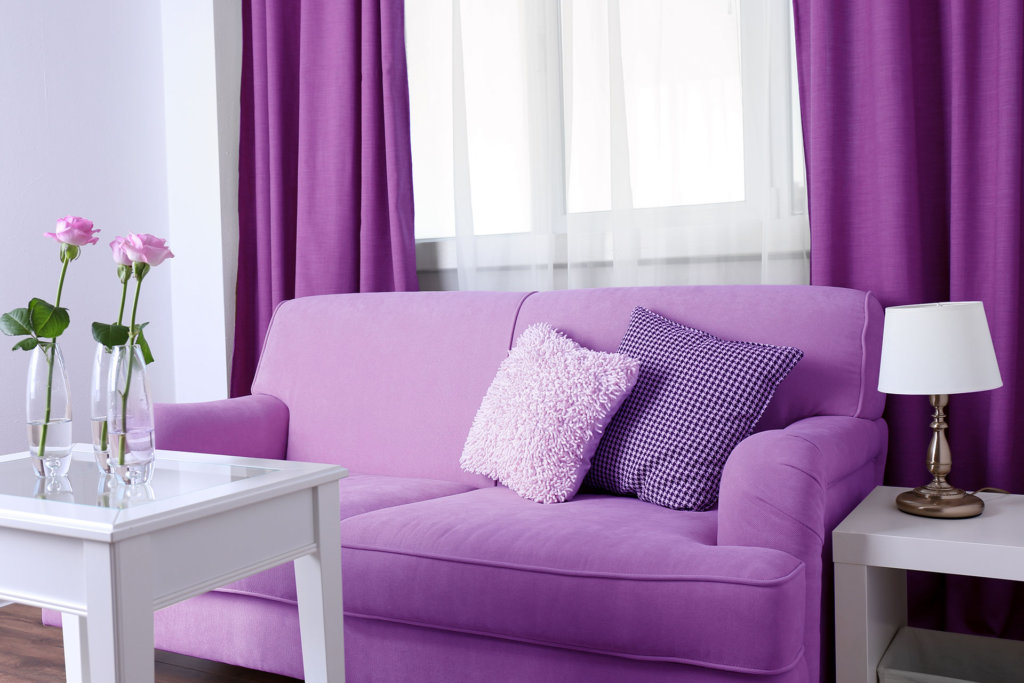 In the right tone or shade, lilac can make a striking statement in a room. This lilac and white palette is simultaneously simple and bold and proves that you don't have to always use paint to add color to your room. This is ideal if you live in an apartment and can't paint or add wallpaper.
The strong presence of lilac in the sofa and the window treatments is balanced by the white in the tables and wall color. Lilac is repeated as an accent color in a muted tone in the flowers and the throw pillows. If you can't find a lilac sofa, look for the color in slipcovers in interesting fabrics and designs that show off your personality.
#5: Easy Wedding Decor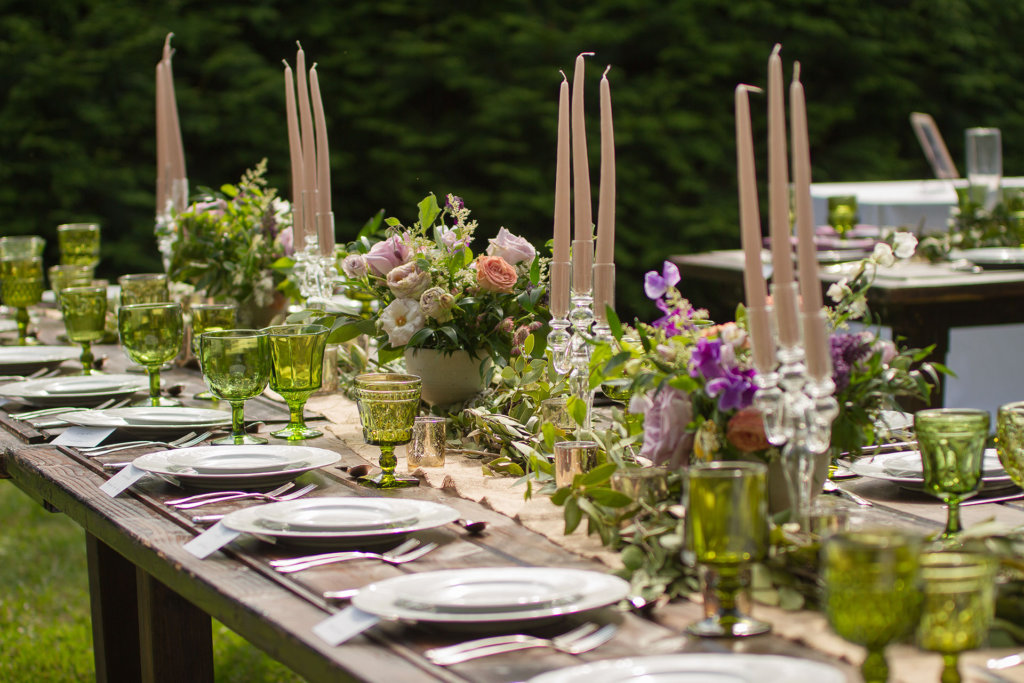 Purple is an appealing color for weddings for so many reasons. Many attractive and popular flowers are available in purple, ranging from fragrant roses to sweet-smelling lilacs to delicate baby's breath. For a bit of sophistication, brides can design their bouquets to include one or more shades of purple.
This table is decorated with beautiful green glasses, white china, and neutral-colored tapered candles. The centerpieces, consisting of bowls of lush purple flowers adorned with generous amounts of greenery, will give any wedding reception a garden feel. With this look, the more flowers, the better. Just keep them in soft, muted colors, so they don't overpower the table.
#6: Casual Living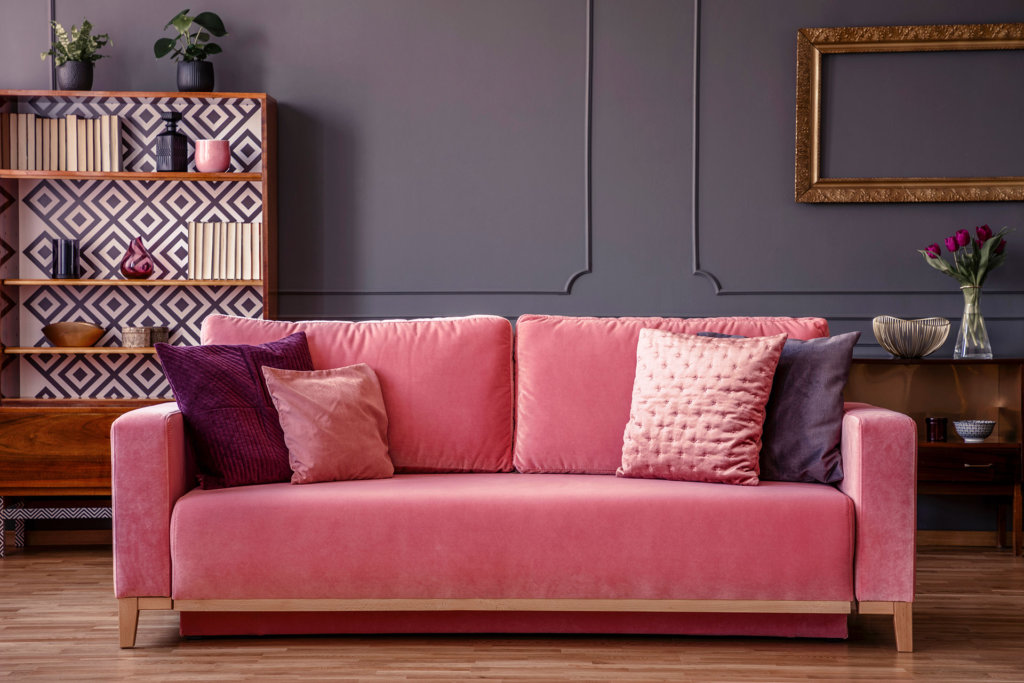 Because pink and purple are so closely related to each other, the two colors create a warm and alluring space when styled together. The casualness of the pink velvet sofa is the focal point in the room and most certainly invites the visitor to sit and stay for a while.
To keep the décor from feeling formal, mix up the style and colors of the accessories a little bit. The unmatching pink, purple, burgundy, and tufted pillows add to the casual feel of the room. Repeat these same purple tones in accessories in the bookshelf to make the décor feel more cohesive and intentional.
#7: Blue Bedroom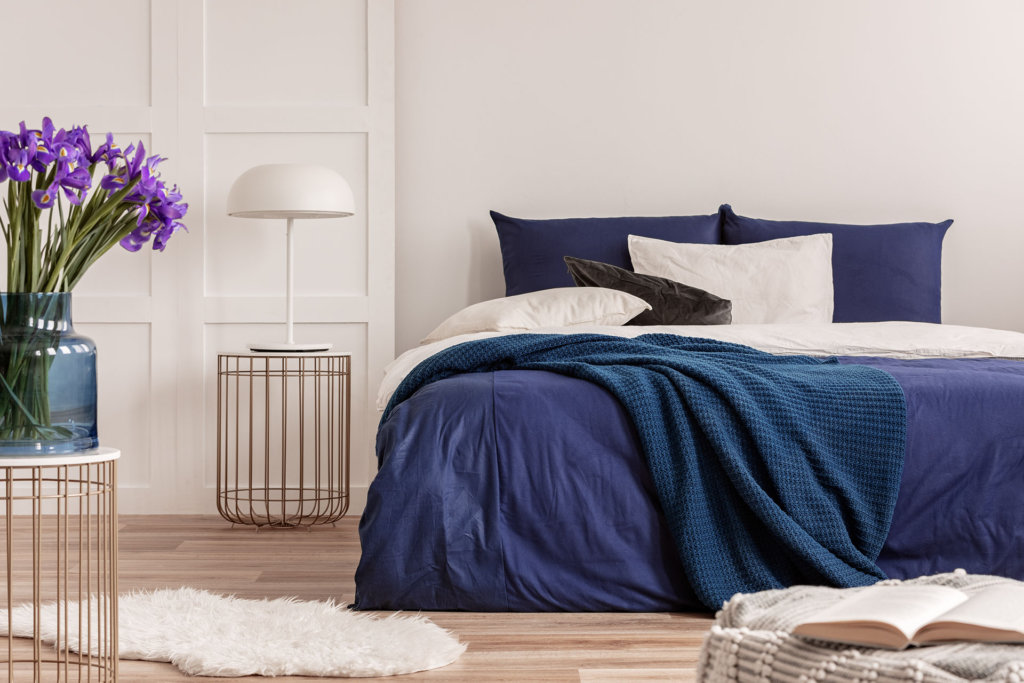 Blue is often used in children's bedrooms because of the color's calming and peaceful qualities. But this deep purple, navy blue, and bright white palette feels so much more grown-up and even more soothing.
Analogous colors such as purple and blue work well in this design because purple is the dominant color, while blue provides a pop of color. This look works best when the two colors contrast enough to avoid feeling muddled.
The décor is contemporary, and the room feels comfortable. With its minimalist furnishings and few accessories, the purple and navy blue are given a chance to shine and add a sense of drama to an all-white room. A good design such as this one doesn't feel overdone.
#8: Play It Safe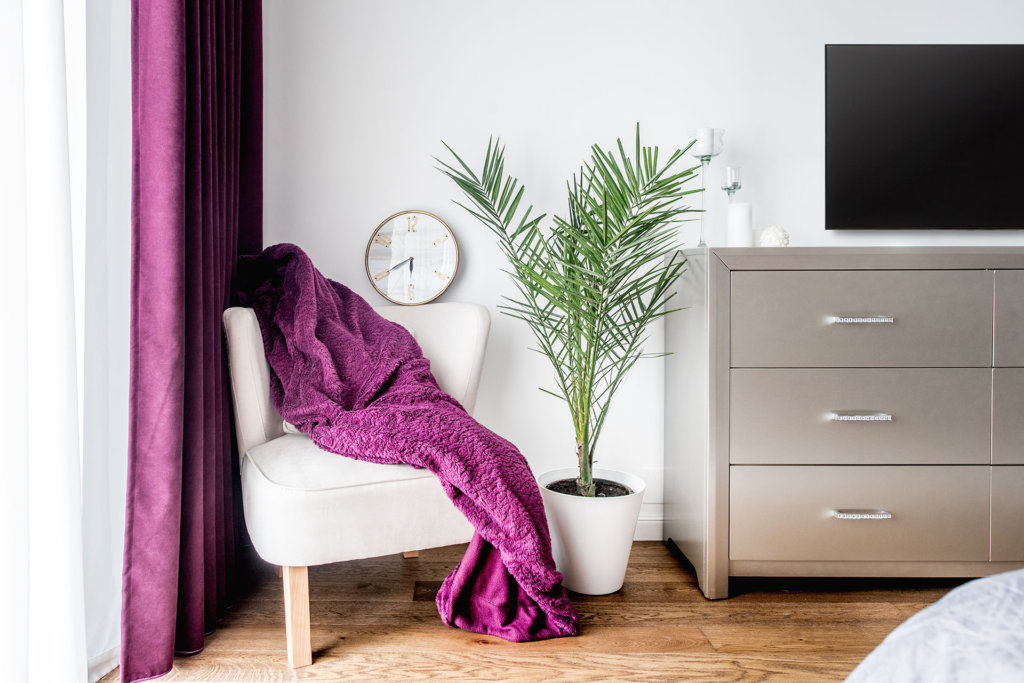 Afraid to commit? Start small with luxurious window treatments and a cozy throw blanket for a pop of color in a neutral-colored space. The dark violet is bold enough to make a room feel special and is gender-friendly. Even in a small room, the touch of color won't be overwhelming. The color also plays well with the greenery in the plant.
Use the window treatment as an opportunity to give the room some personality by choosing a material with texture or a pattern. Purple velvet, silk, or linen looks luxurious and feels regal.