Adding a deck boosts curb appeal and provides a comfortable platform for sitting, walking, or admiring your garden. Consider using decking to perfectly frame your flower beds or help create more harmony with the surrounding landscape.
Decking comes in a wide range of styles and designs, including custom builds that fit around existing elements such as a garden, pool, or shed. You may even add an outdoor kitchen or family den for hosting parties or large family get-togethers.
Find inspiration for transforming your garden with these 21 amazing decking ideas.
#1: Simple Deck Overlooking Your Garden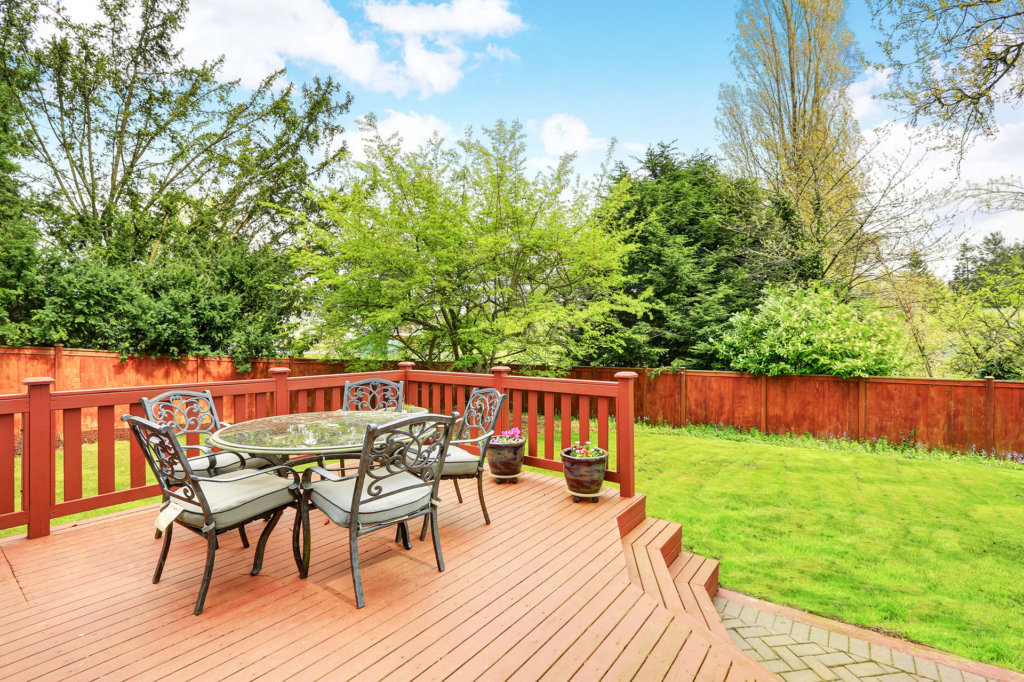 Some of the best deck designs are simple and efficient, such as a large platform with steps leading to the rest of your garden. Add a railing around the sides of the deck while leaving a wide area for stairs.
A simple design increases the versatility of the decking. You can use the platform for a variety of activities, from outdoor dining to entertaining guests. You can add a small patio table and chairs or place a couple of benches against the side.
#2: Relax or Entertain in an Outdoor Living Room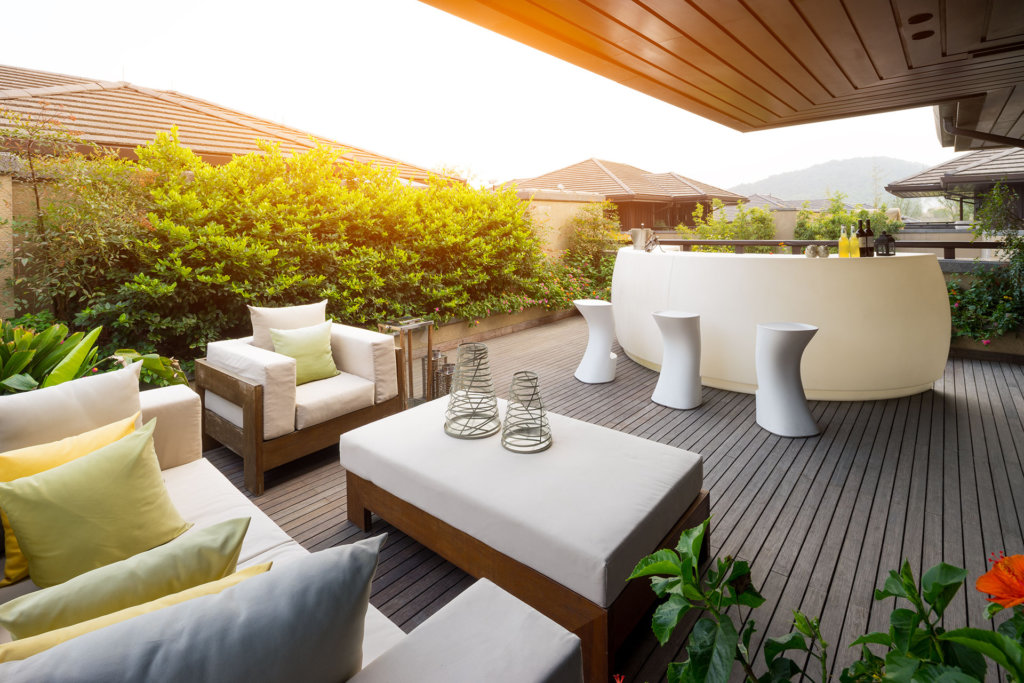 Decking provides the perfect way to extend your living space outdoors. Consider adding a large open deck and furnishing it with couches and chairs to create an outdoor family room. This is a simple project featuring a large rectangular deck with minimal features.
Depending on where you live, you may need to worry about the weather damaging fabric couches or ottomans. Placing a roof or canopy over a portion of the deck helps protect furniture from rain or snow, allowing you to enjoy your outdoor family room all year.
#3: Frame a Pond with Decking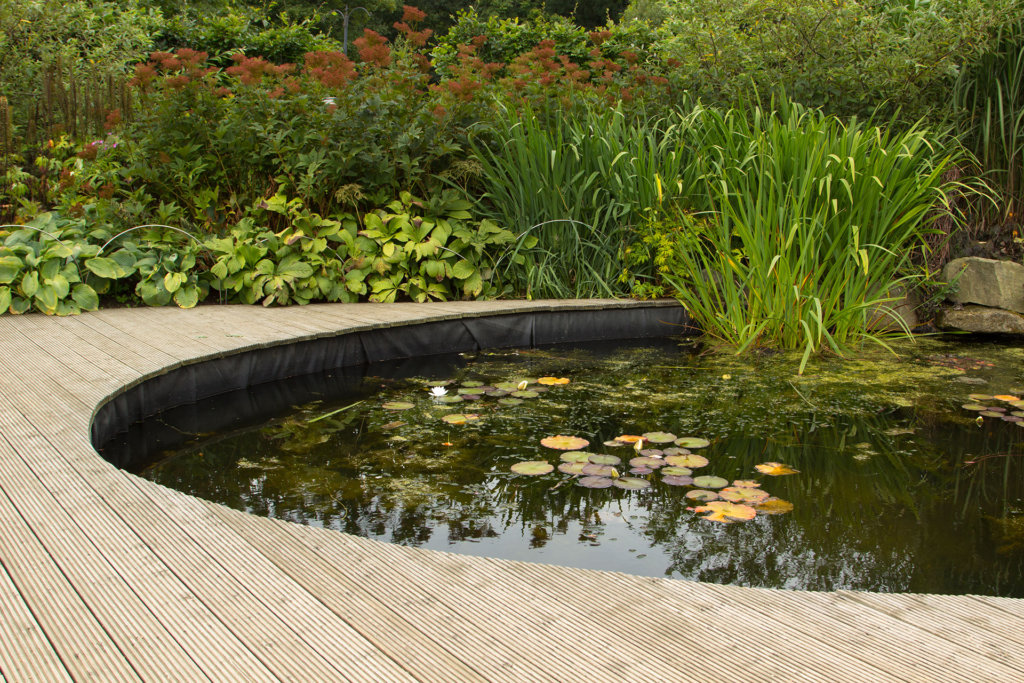 Use decking to highlight water features in your garden, such as a pond. The deck can help create a clean, modern look while providing a place to sit and admire your water plants.
You can include this design in almost any deck project. You simply need to build around the water feature or pond. The area around the cutout will likely require posts for support. You may also line the edge of the cutout with pond liner to bring the water right up to the edge of the deck.
#4: Add Poolside Decking to Your Garden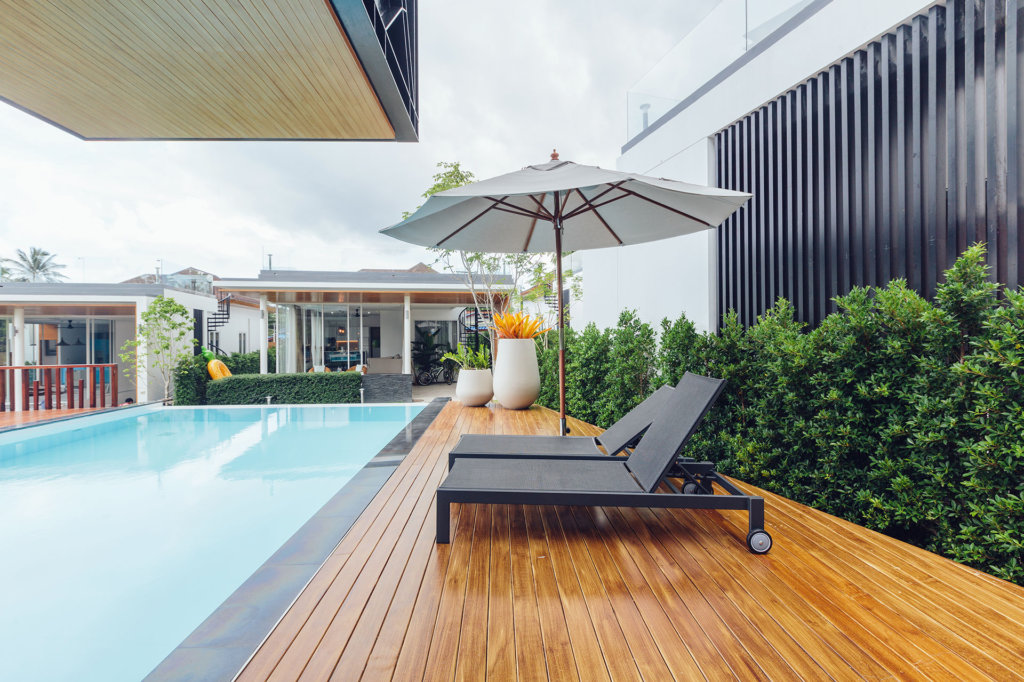 Instead of concrete, use wood or composite decking around your pool. You can even install wood pool decking over existing concrete pool decks, allowing you to update the look of your yard.
When using wood for pool decking, choose the right material. Redwood, cedar, and teak are common choices as they can repel water and are less likely to attract insects. This project may also require professional installation as you need to install floor joists under the decking.
#5: Create a Small Seating Area in a Tiny Garden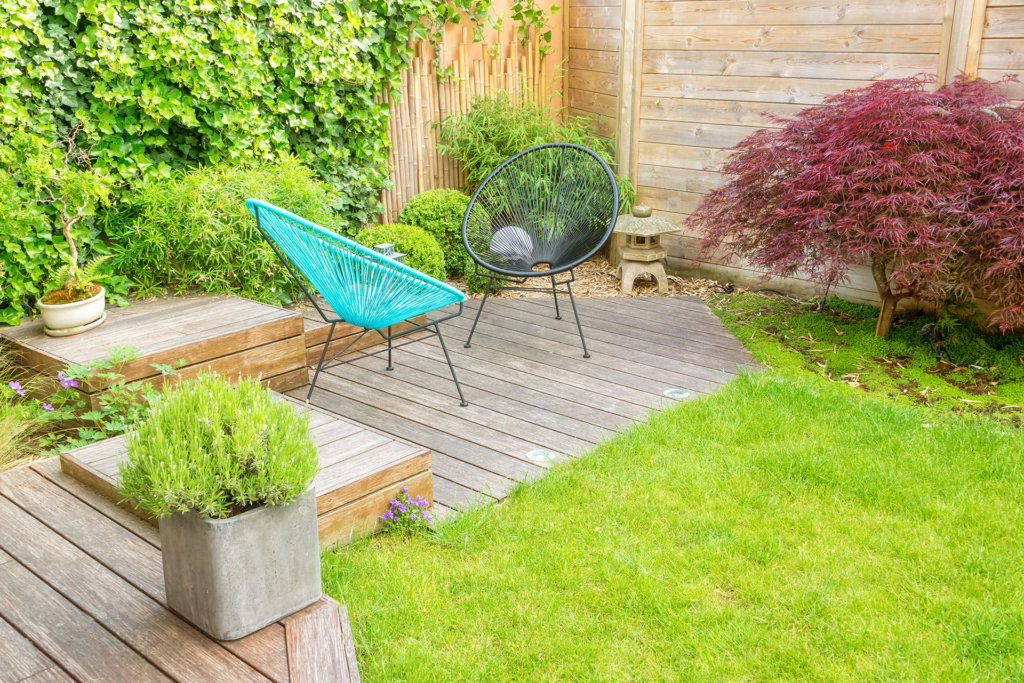 Even the smallest gardens can have decking. If you have limited space, build a small deck with enough room for two or three chairs. A small seating area can enhance the look of your backyard and give you a place to sit outdoors without resting your feet in the grass.
The deck does not need to be raised. You can build it directly on the ground with just a frame underneath the upper decking, making it level with the grass.
#6: Add a Detached Deck with a Pergola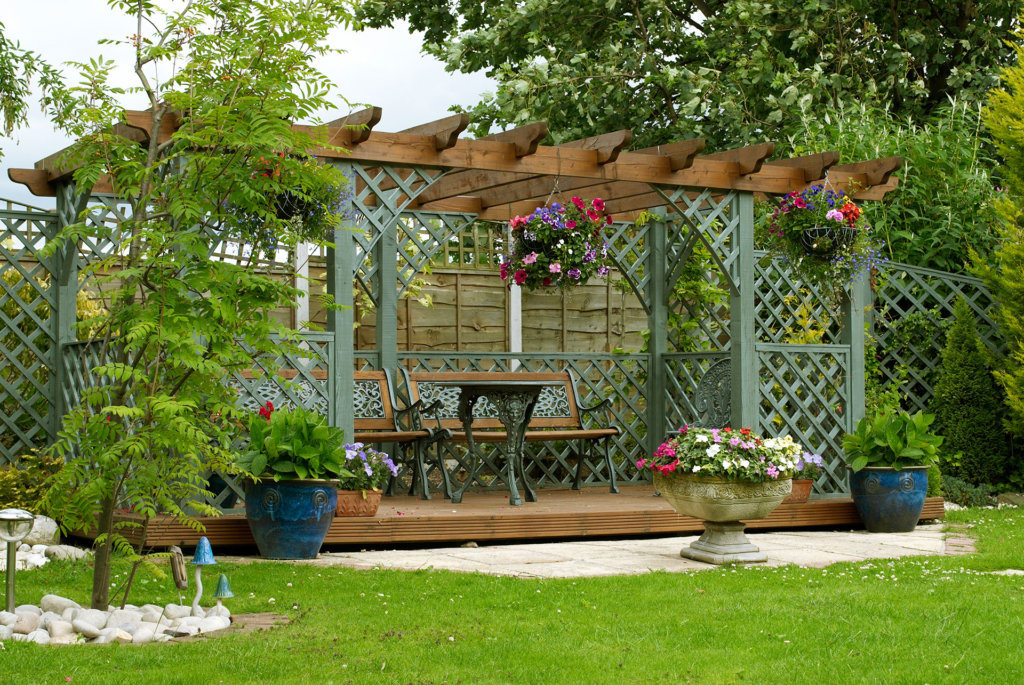 Your deck does not need to connect to your property. You can add a detached deck with a pergola almost anywhere in your yard to create a comfortable spot to sit and enjoy the outdoors.
Pergolas typically have four support beams and a lattice roof. By adding a pergola over the deck, you get shelter from the sun and a place to grow woody vines. Make the deck large enough to add one or two benches and potted plants to round out the design.
#7: Build Deck Walkways Around Garden Beds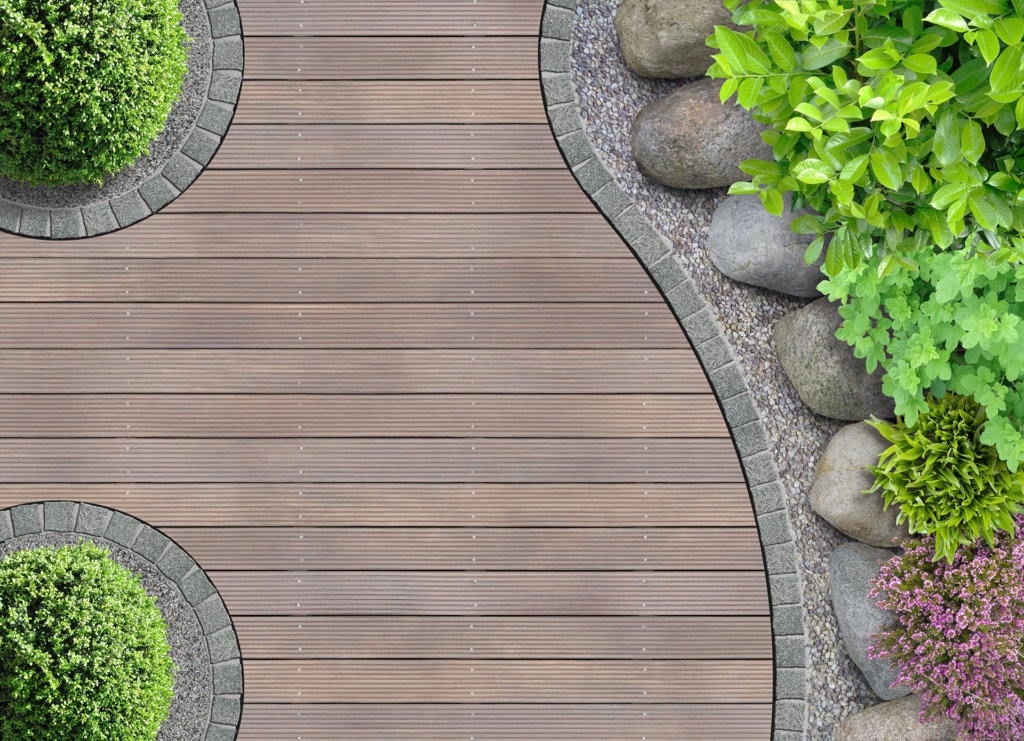 Ground-level decking is the perfect walkway for lining the paths between your various garden beds. It helps create a clean, modern look while highlighting the plant life in your gardens. Compared to other walkway designs, wood decking allows you to avoid dealing with weeds growing up between rocks, tile, or concrete.
When adding ground-level decking for a walkway, design the deck around the shape of the garden. You can curve the decking around rock gardens, trees, shrubs, and other outdoor features.
#8: Use Built-in Benches to Maximize Seating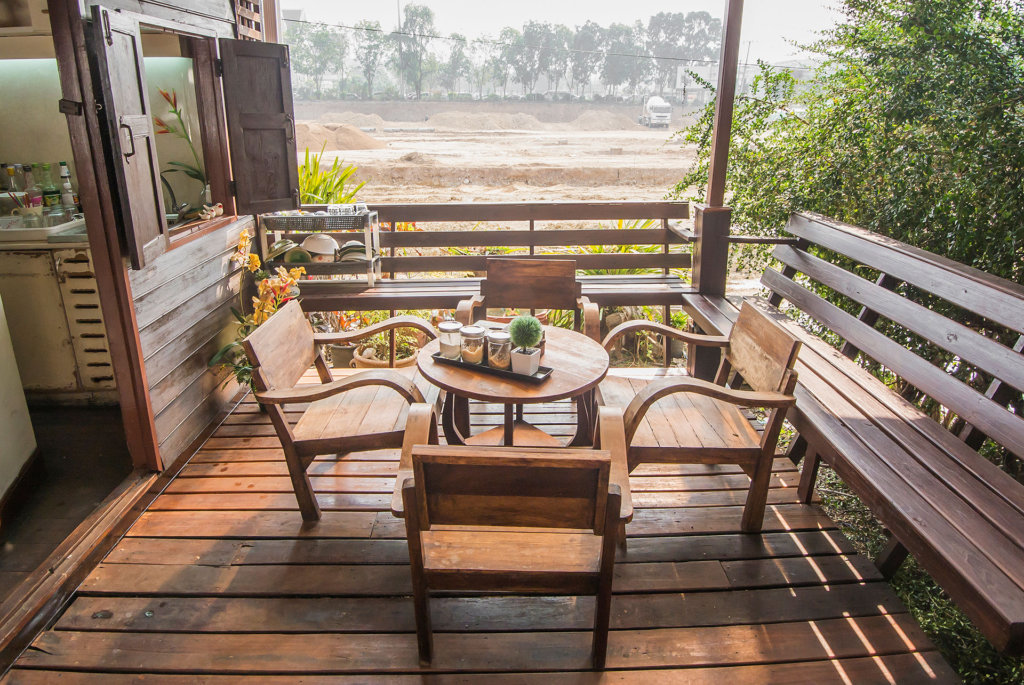 If you plan on building a small deck, you may want to add built-in seating. Instead of railings or knee walls, install benches around the sides of the deck. The benches offer permanent seating and provide a barrier for the sides to section off parts of the deck.
You can add benches to almost any deck design. You could also choose to install benches on just one side while using railings or walls for the other sides.
#9: Use a Walkout Deck for a Harmonious Look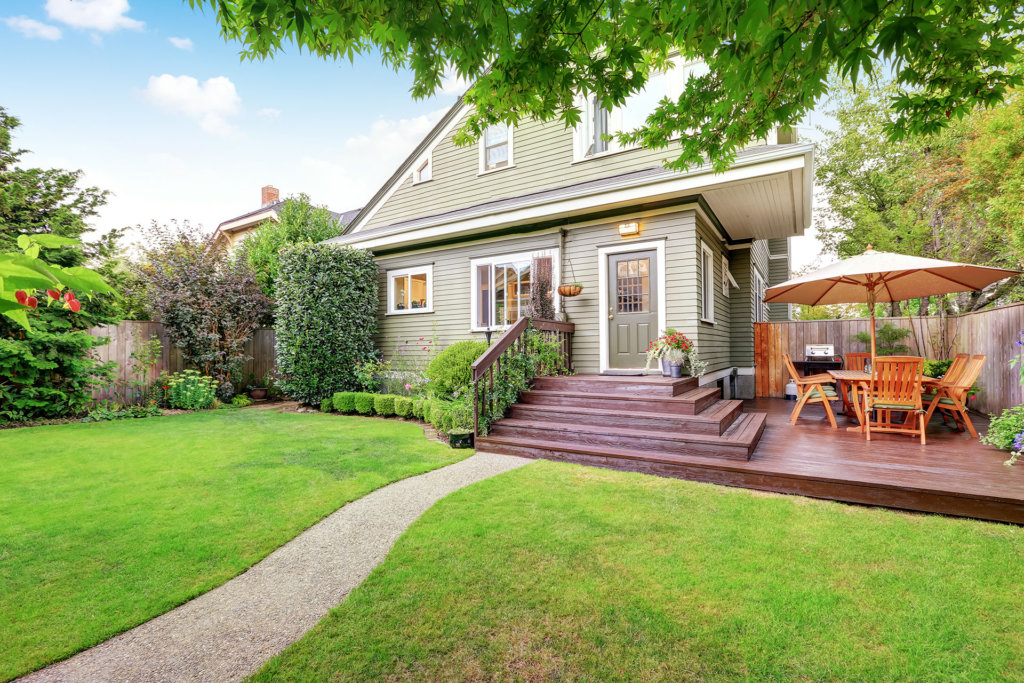 A walkout deck is just one step above ground level, helping to bring the decking and garden closer to the same height. This creates a more open layout and makes the decking less imposing compared to the rest of the garden.
Walkout decks rarely have railings or sides as they are only a short height above ground. However, you can use this with other designs, such as using a walkout deck as a lower platform leading up to a taller deck, adding more dimension to the yard.
#10: Build Your Deck Around a Built-in Grill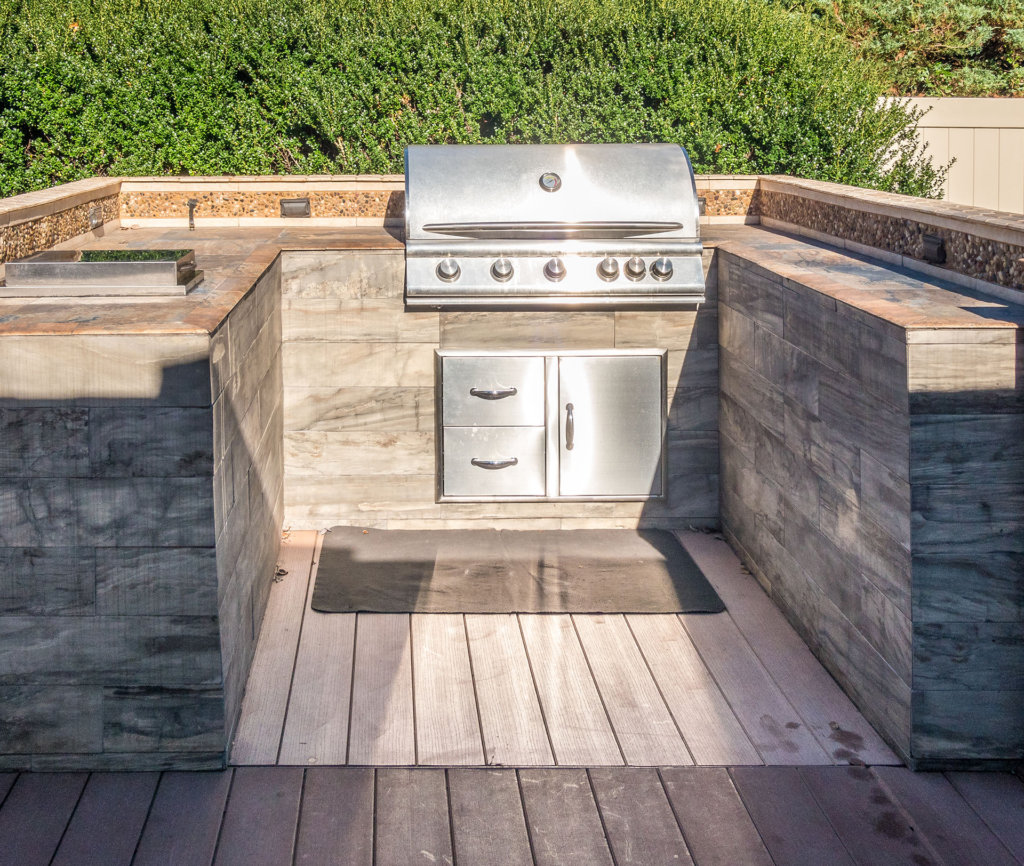 Designing an outdoor kitchen can quickly become a major home improvement project. An easier solution is to build a deck around a built-in grill. You can cook almost any meal on a grill, eliminating the need for a costly outdoor oven.
Incorporate other features from the kitchen, such as marble countertops, a sink, and an eating area. If you want to protect the appliances, add a roof above the counters while leaving the rest of the decking exposed.
#11: Create a Multi-Level Garden and Deck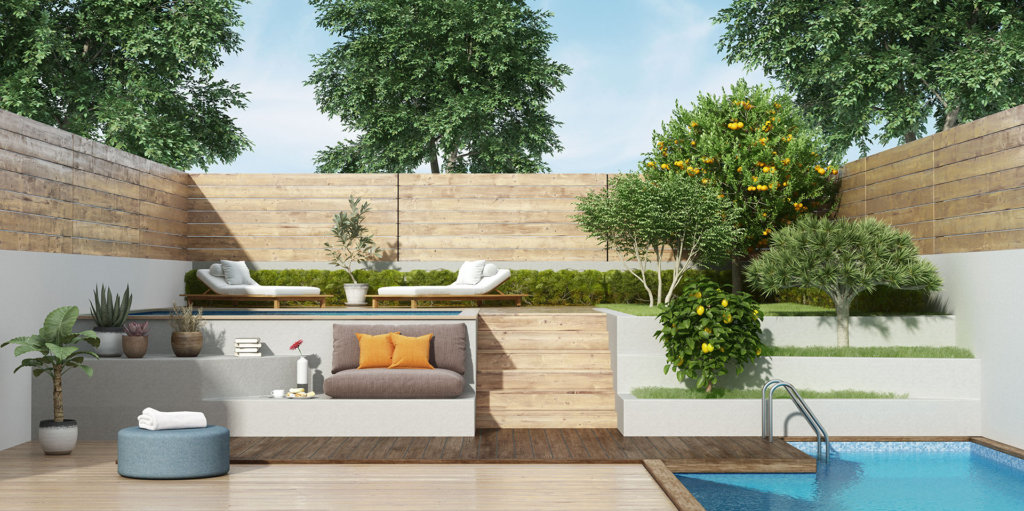 Decking offers endless options for transforming your garden, including allowing you to build multiple levels. This design adds dimension to the garden, which is useful if you have a narrow or small yard.
You can remove earth from a slope and build a tiered deck that offers several levels of seating or space for plant beds. If the height of the top level is significantly higher than ground level, build stairs into the design.
#12: Use a Deck to Bridge Two Areas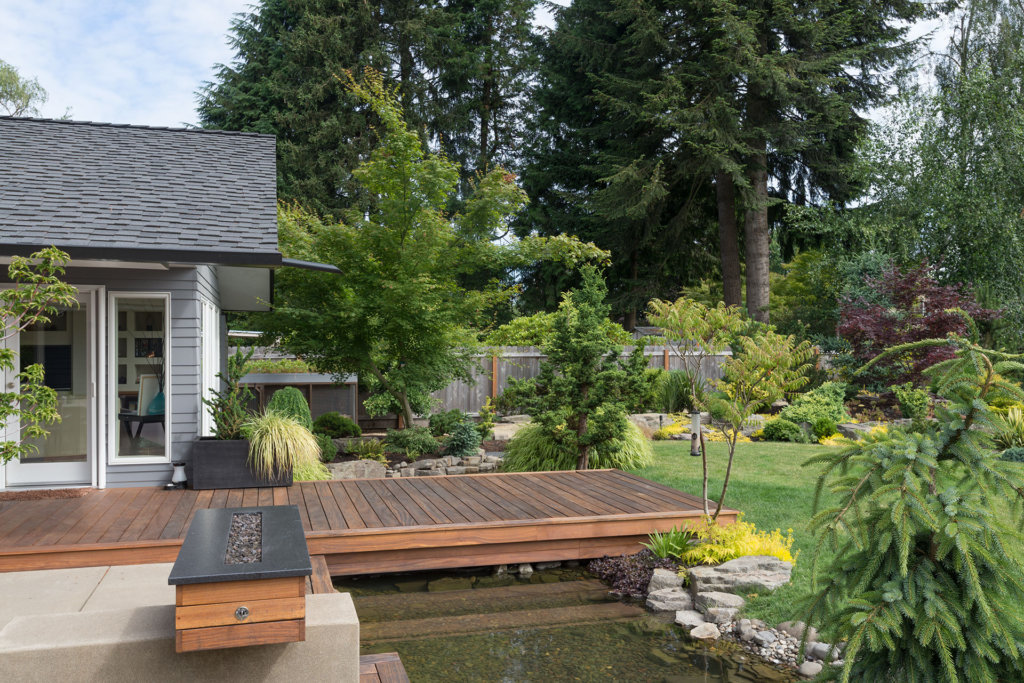 If your yard has a small stream or long pond, you can use decking as a bridge. This is also a suitable option for covering slopes or dips in the yard. Extend the deck from the house or main platform to another portion of the garden.
The deck helps tie the entire garden together and allows you to connect various parts of the yard. After crossing the stream, pond, or dip, you can extend the platform to create a walkway around various garden features.
#13: Include Vegetable Beds on Your Deck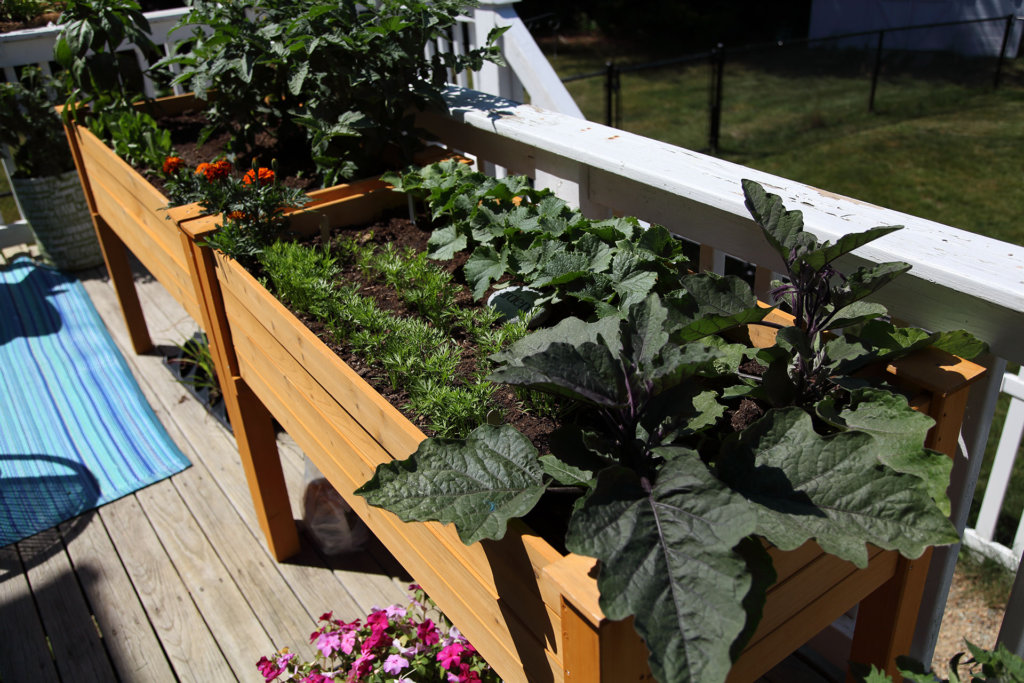 Adding decking eliminates some of the available space for flowers and vegetables. If you find yourself running out of growing space, build or install plant beds on your deck. This offers a modern look and makes it easier to tend to your garden.
When adding a vegetable bed or plant bed to your deck, consider raising the height. Instead of kneeling, you can stand or pull up a chair to weed your garden.
#14: Build a Narrow Deck Against Your Property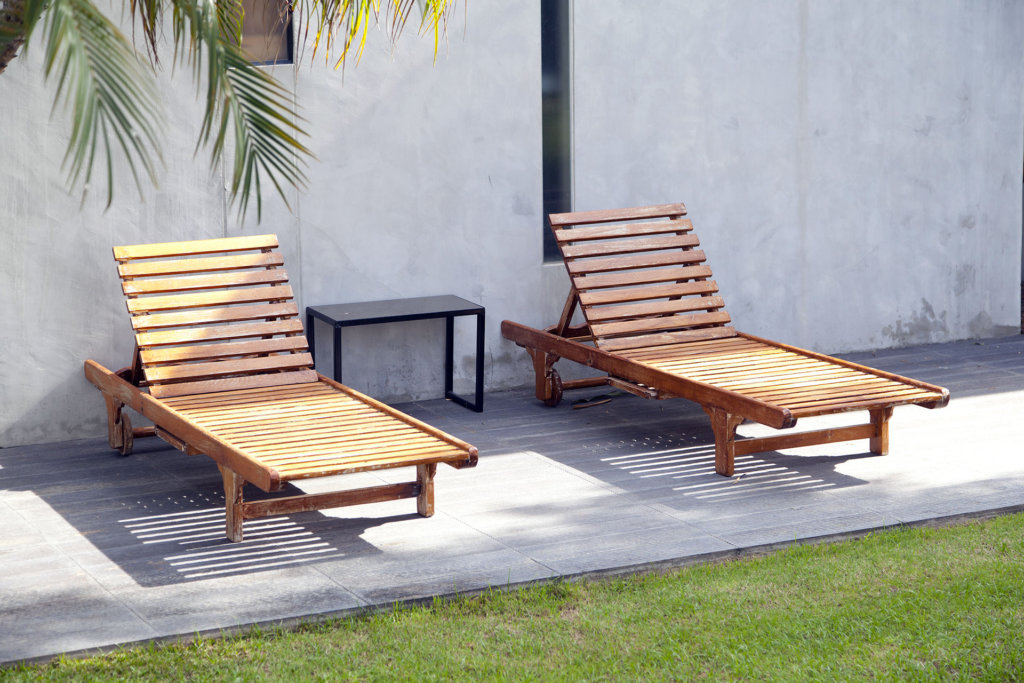 A narrow deck can maximize your garden space while still providing room to sit. You only need the deck to extend about one to two feet beyond the edge of the chairs that you plan on using. You can also make the deck long to offset the narrow depth.
If you choose to use a narrow design, consider making the decking ground-level. Adding steps can extend the depth of the deck another couple of feet, eliminating the advantage of the narrow layout.
#15: Accentuate Your Shed with Decking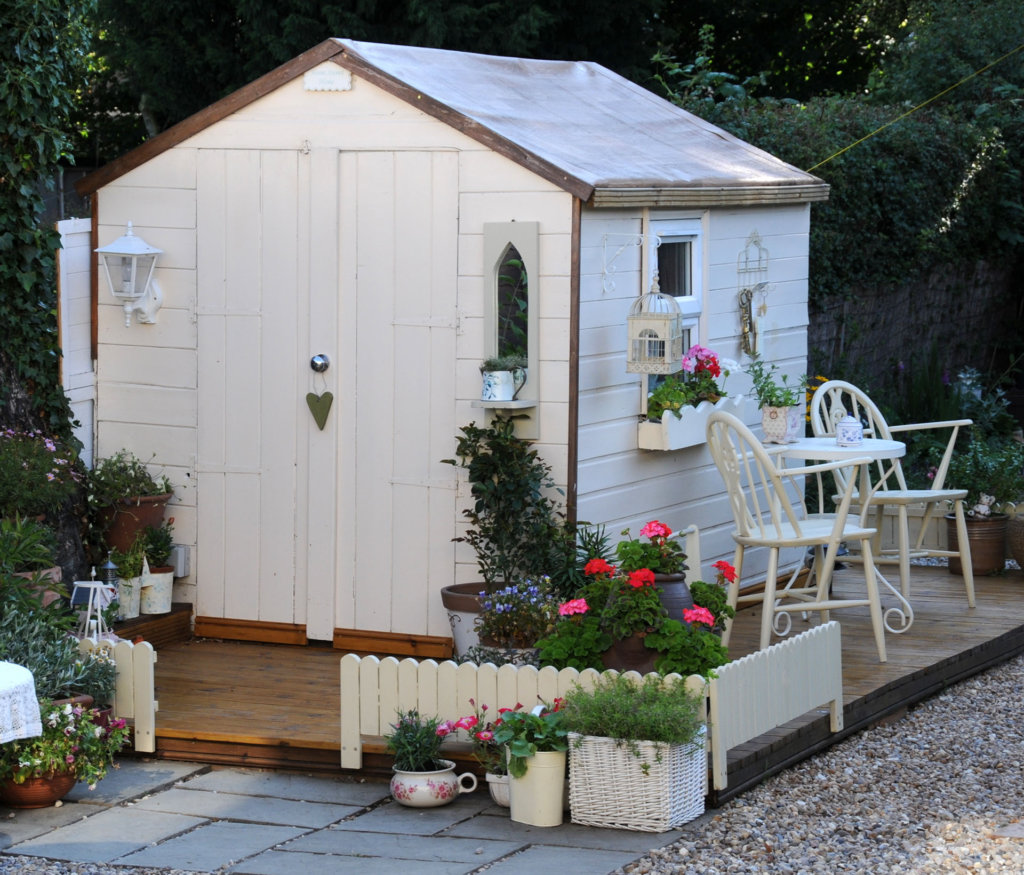 Many people overlook the shed as a place to build a deck, focusing on the house or pool. If you have a small garden shed, a walkout deck or ground-level deck can provide a spot for a little seating area or outdoor workstation. As with a narrow deck, you only need to extend the deck one or two feet beyond the furnishings.
You can also match the decking around the shed to the decking around the house. Use the same materials to tie the elements together.
#16: Frame a Tree with Decking and Benches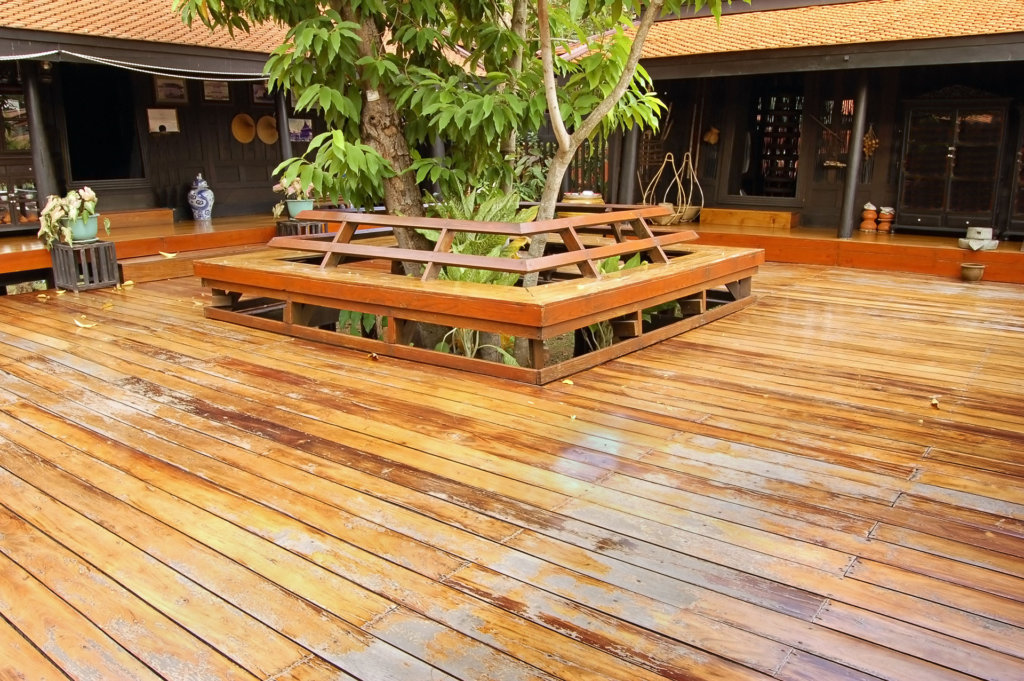 A large tree in the middle of the garden may limit your design options. Instead of removing the tree, build the decking around it. This idea works best with raised decking as a ground-level deck may prevent the soil around the tree from soaking up enough water.
No matter the design or layout of your decking, you can build around large trees and other structures by including a square or circular cutout in the middle of the deck. You can also add built-in benches around the tree for more seating.
#17: Hang a Swinging Bench on Your Deck
A bench swing is a lovely addition to any deck or porch. There are a variety of ways to add a swing to a deck, including building a support beam off one side of the deck. You could also build the swing directly into the decking for additional support.
Keep in mind that this may not work well with a small deck as you need to leave about two feet of space in front of the bench and behind it.
#18: Keep Yourself Warm with an Outdoor Fireplace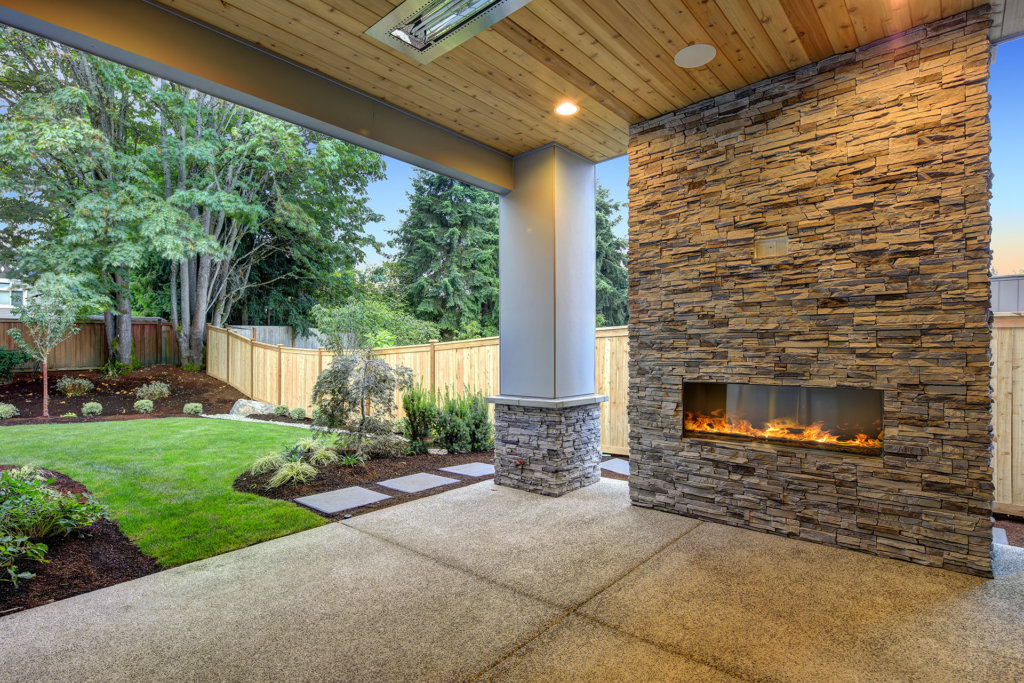 Instead of adding a fire pit to your deck, you can install an outdoor fireplace. Outdoor fireplaces are becoming more popular in the northwestern regions of the US, thanks to the year-round comfort that they provide.
Adding an outdoor fireplace requires extra planning. You may need a special permit in your region. You may also want to include some type of roofing to shield the fireplace from the weather. If you can overcome these challenges, a fireplace is a great accessory for an outdoor living room.
#19: Use Different Materials for Each Level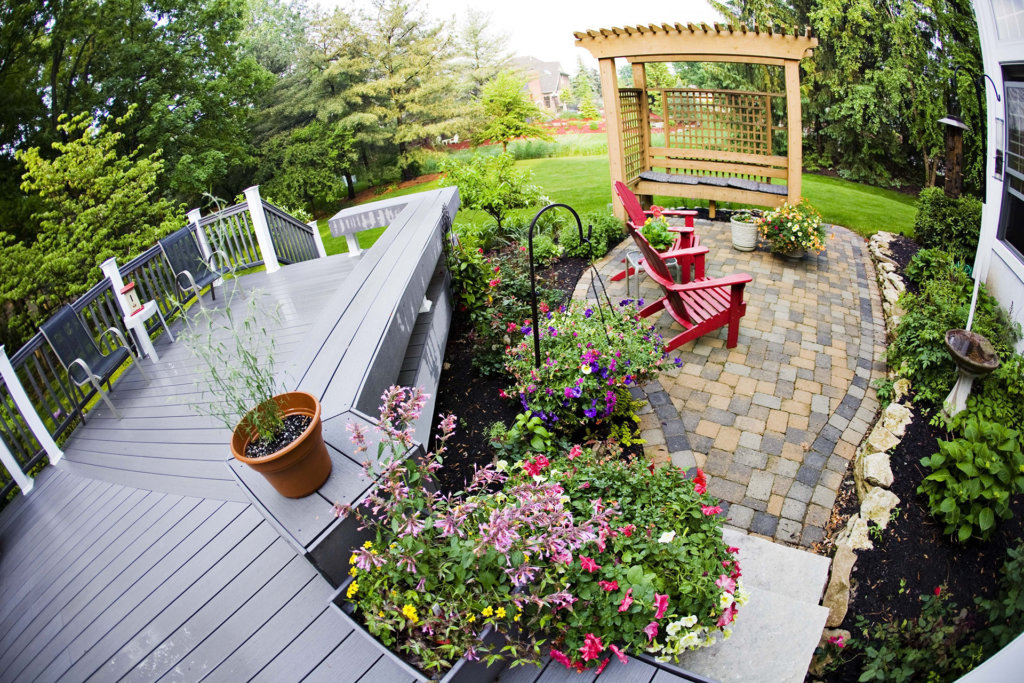 A common design for raised decking is to add a lower platform at the bottom of the stairs, extending the decking further into the yard. However, using different materials for each level helps create multiple focal points.
An extended deck can draw the eye away from other features such as your flowers and plant life. If you want to draw attention to multiple areas, use different decking materials for each part of the yard. For example, you could use wood or composite decking for the raised platform and stone or tile for the area around the garden.
#20: Extend Your House with Sliding Doors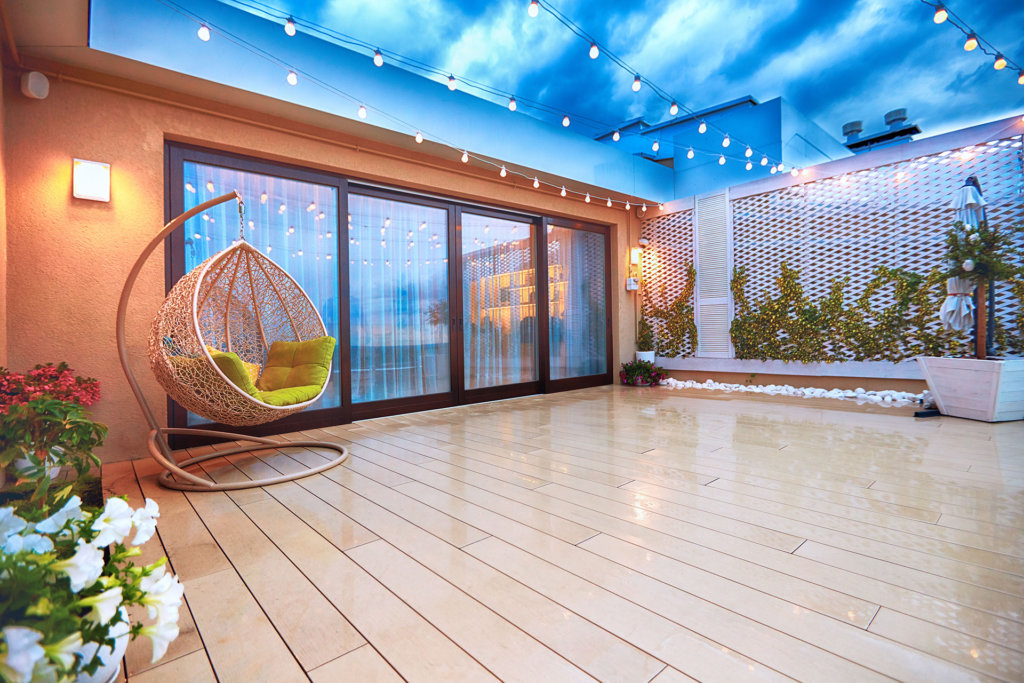 Use as much space as you have available to build a large deck that you can reach through sliding doors in a bedroom or kitchen. Use the additional space provided by the decking to extend the room outdoors.
For example, if the sliding doors are connected to your kitchen, add a dining area on the deck. If the sliding doors connect to your bedroom, you could add a comfortable seating area. No matter how you use the deck, make sure that you include plant life.
#21: Use Raised Decking to Deal with Sloping Yards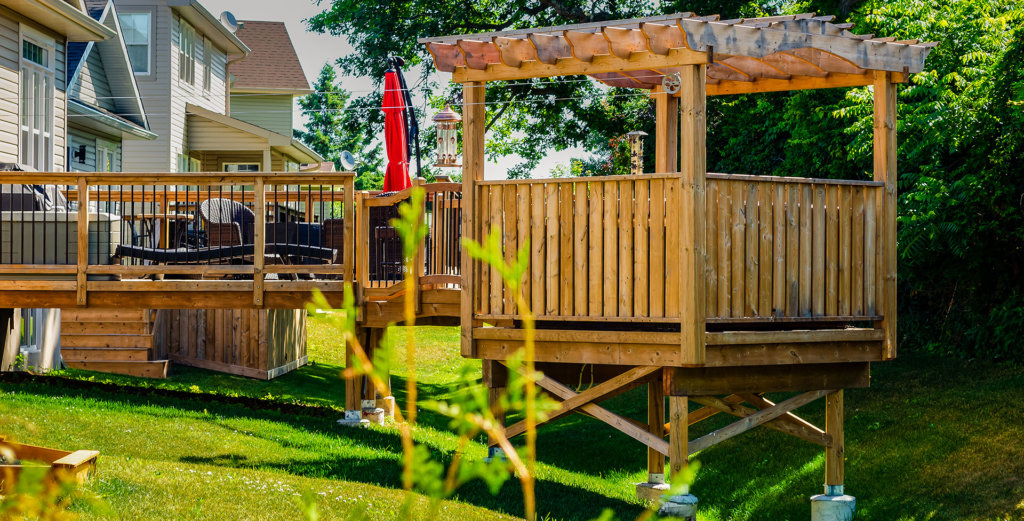 A sloped backyard can make it difficult to add a large deck. One solution is to use a raised platform to extend your deck over the slope, allowing you to create a little lookout area or gazebo.
The deck may start at ground level near the back of the house and require joists of varying heights as you reach the slope. This is a great way to build a larger deck without worrying about the natural landscape of the garden.
Frequently Asked Questions
How much does decking cost?
The average cost of decking is $30 to $60 per square foot, with a median price of $7412 in total. However, the cost depends on the size of the deck and the materials. About 50% of the cost includes materials, while the other 50% covers labor.
Can I install decking myself?
Yes, many homeowners choose to install their own decking. It is a relatively easy DIY project. You first need to plan the design, dig holes for posts, and then construct the deck. You can typically save about $30 to $35 per hour of labor, resulting in hundreds of dollars in savings.
Can I deck my entire garden?
In some areas, the total size of the decking and other extensions cannot exceed 50% of the size of the entire yard. Always check your local building regulations before starting any major outdoor renovations.